Being that it is marathon season I thought it would be appropriate to blog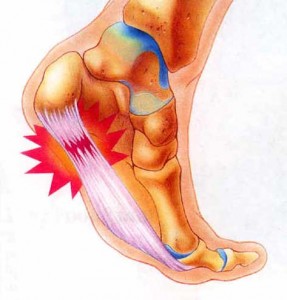 about running. I love to run outside especially when there is beautiful weather. While running is such wonderful exercise and a great way to clear your head, it is important to gradually increase your distance runs to prevent injury. I learned this the hard way and ended up with pain in my knees. Many times people will pick up running and set their sights on completing 5Ks and marathon runs which are great, but only if you train properly. If you start to feel an achy knee or painful feet, listen to your body and take a break to heal or decrease the intensity. Our body is giving us signals that we are overdoing it and if we ignore those signs we may be in for a lot more pain in the long run.
Plantar fasciitis, a common occurrence in runners, is a painful inflammatory process of the plantar fascia, the connective tissue on the sole of the foot. It causes pain which can be quite severe in the heel and arch. The good news is acupuncture is wonderful at significantly reducing the pain and providing much needed relief. A columnist in Florida recently wrote about how acupuncture helped her with plantar fasciitis. She writes, "The stretching, ice packs and yoga helped me, but my best relief might surprise you. It was acupuncture." To read more about her experience with acupuncture click here.