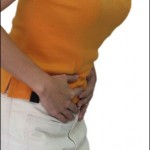 There are an estimated 20 million Americans who suffer from IBS (Irritable Bowel Syndrome), a condition also known as spastic colon, nervous stomach and functional bowel disease. If you have ever experienced diarrhea before a major exam or presentation or had loose stools during times of stress, then you have experienced what it is like to have IBS.
Digestive issues are a common reason people seek acupuncture in my office. Acupuncture helps with many uncomfortable symptoms such as bloating, diarrhea, constipation and nausea to name a few. All of these symptoms can occur if you suffer from IBS. Acupuncture happened to be the only thing that actually relieved my IBS symptoms.
With regular acupuncture treatments and dietary changes, my patients are able to keep IBS a thing of the past. Patients experience immense relief from treatments and also benefit from acupuncture's ability to reduce stress- a major trigger for IBS!
Here are some dietary tips that can help you get started if you are a sufferer of IBS:
Be careful with food sensitivities and/or allergies. Gluten and dairy can cause gastrointestinal problems.
Avoid fried foods
Cook vegetables rather than eating them raw
Focus on eating a high fiber diet and incorporate whole grains
Eat in a calm manner- shoveling down food will leave you feeling bloated and in pain