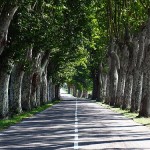 I absolutely love my profession. It is amazing to watch patients come into my office in pain and leave nearly pain free. Patients come in with overwhelming stress, tension in their back and shoulders, and with headaches that have been lasting for days and leave completely calm and serene. It is as if my patients come walking through my office doors with fifty pounds of extra weight strapped to their backs, but are able to leave pounds lighter then when they came in. The power of Chinese Medicine never ceases to amaze me.  Just this past weekend, I was introduced to a woman who works for the Fire Department of New York. I was surprised and impressed to learn that the NY fire fighters get regular acupuncture treatments for lung damage and other health issues they sustained during the WTC attacks on 9/11.
Since moving to Columbus, Ohio, it has been a slow uphill hike to educate more and more people on the benefits of Acupuncture.  I am thrilled that so many people seem open to the idea of giving Acupuncture a try, but many still seem unsure or skeptical it will work. I will continue my journey of spreading the word and educating patients as well as other health practitioners on how Acupuncture can naturally treat so many conditions that affect us all. We are all on a journey whether we are conscious of our path or not. Sometimes we may stray from our plan but with lots of focus and dedication we can pick back up where we left off and continue moving forward. So I ask you…what's your journey?
Stay tuned my next blog will be about how to fight those winter blues…hang tight Spring is not far away!